From Kerkini again in the Evros Delta!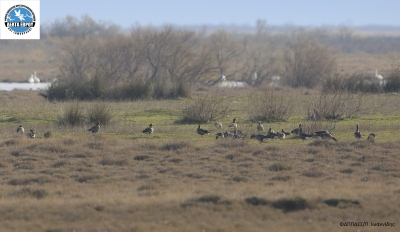 The European population of the Lesser White-fronted Gοose breeds in Norway and winters in Greece in the wetlands of Kerkini Lake and the Evros Delta.
The 69 birds of this last flock, after spending a big period in Kerkini, arrived as usual every year, in the meadows of the Delta, where they find shelter and food.
The Management Body actively participates in monitoring and protection activities of the species through the LIFE program "Providing a climate resilient network of critical sites for the Lesser White-fronted Goose in Europe" with the participation of five countries (Greece, Finland, Lithuania, Estonia and Hungary) in order to protect this emblematic species.
Διαβάστηκε 5027 φορές
Δημοσιεύθηκε στην κατηγορία
Νέα
Ευρωπαϊκή Ένωση

Ευρωπαϊκό Ταμείο

Περιφερειακής Ανάπτυξη

Με τη συγχρηματοδότηση της Ελλάδας και της Ευρωπαϊκής Ένωσης