Bewick Swans in the Evros Delta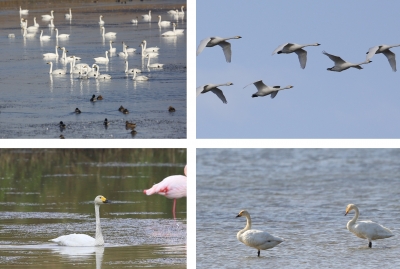 Few people in Greece know that there is an area in our country, which is one of the most important worldwide for Bewick Swans.
And this is the wetland of Evros Delta!
The areas of the planet that host concentrations of even 11,000 Bewick Swans (!) can be counted on the fingers... perhaps only some in China!
The remarkable thing is that for the Bewick Swans - which breed in the arctic tundra and winter in a wide area that reaches from Western Europe to Japan - in contrast to the amazing increase they show in recent years in Evros Delta, in the rest of Europe they show a very significant decrease.
While the birds have started arriving in the area since October to overwinter, already in mid-December their population in the area has exceeded 6,000 birds. On December 16th two different visitors, two ringed Bewick Swans, were recorded by the staff of the Management Unit.
The first bird was ringed in Yamal Peninsula in Siberia. Since then, it was observed in the Delta in February of 2018, 2020 and 2022. So, it looks that the bird loves the area and prefers it for wintering.
The second bird, was probably ringed in a northern European country or in Siberia and traveled to our area to spend the winter.
We wish a safe stay for all the birds!
Διαβάστηκε 1995 φορές
Δημοσιεύθηκε στην κατηγορία
Νέα
Ευρωπαϊκή Ένωση

Ευρωπαϊκό Ταμείο

Περιφερειακής Ανάπτυξη

Με τη συγχρηματοδότηση της Ελλάδας και της Ευρωπαϊκής Ένωσης